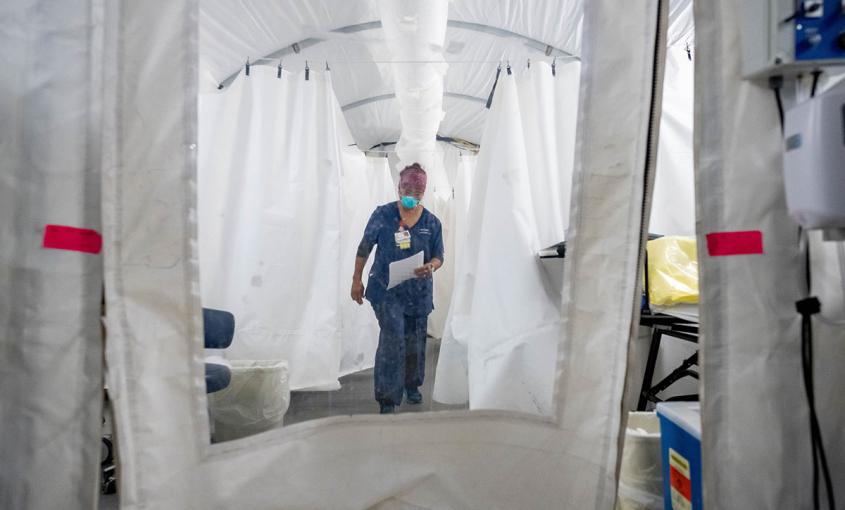 The U.S. has faced periodic nursing shortages over the past century, but the current national shortage has been especially severe and may prove to be persistent.
Faculty at the UCSF School of Nursing are exploring the root causes of the national nursing shortage and formulating potential solutions to address this alarming trend.  
What is Causing the Nursing Shortage?
There are approximately 3.9 million registered nurses (RNs) in the U.S., and the U.S. Bureau of Labor Statistics (BLS) projects that more than 500,000 RNs will retire by 2022. Accounting in large part for replacing those retirees as well as other factors, the BLS estimates 1.1 million new RNs will be needed to prevent a shortage.
The COVID-19 pandemic has accelerated the need for new RN graduates as older nurses retire sooner, especially in California. An August 2021 report co-authored by Joanne Spetz, professor at the School of Nursing and director of UCSF's Philip R. Lee Institute of Health Policy Studies, found that the percentage of California RNs ages 55 to 64 planning to retire or quit in the next two years more than doubled from 11.4% in 2018 to 25.2% in 2020.
And although the percentage of RNs ages 65 and older who plan to retire or quit in the next two years did not increase significantly from 2018 to 2020, Spetz notes that the employment rate for this age group decreased substantially, "suggesting that many RNs in this age group who might have been planning to retire already did so."
"We've been preparing for those retirements," Spetz said, "but it looks like a big chunk of them is happening a lot more precipitously than we expected."
Along with the aging nurse workforce, the stress associated with nursing is resulting in burnout. Nurse turnover rates are as high as 37 percent, depending on geographic area and specialty.
"During the initial crisis of COVID in the U.S., the role of nurses caring for patients, many of whom were dying in hospitals, increased nursing visibility," said Carol Dawson-Rose, professor at the School of Nursing. "But the sheer stress and numbers of people diagnosed with COVID is exhausting the nursing workforce and the visibility of nurses caring for people with COVID has diminished."
In addition, educating the next generation of nurses is becoming increasingly difficult as nursing schools are dealing with faculty shortages, difficulty securing clinical opportunities for students and restrictive state policies, resulting in decreased enrollment. Spetz's report also cited concerns about safety in clinical rotations and the challenges in shifting to online learning as additional reasons for enrollment reductions.
If this shortage is not addressed, patients may experience more negative health outcomes. Studies, such as Spetz's 2011 article in Medical Care, show that higher nurse staffing protected patients from poor outcomes.
Read the full story in our Science of Caring online publication.