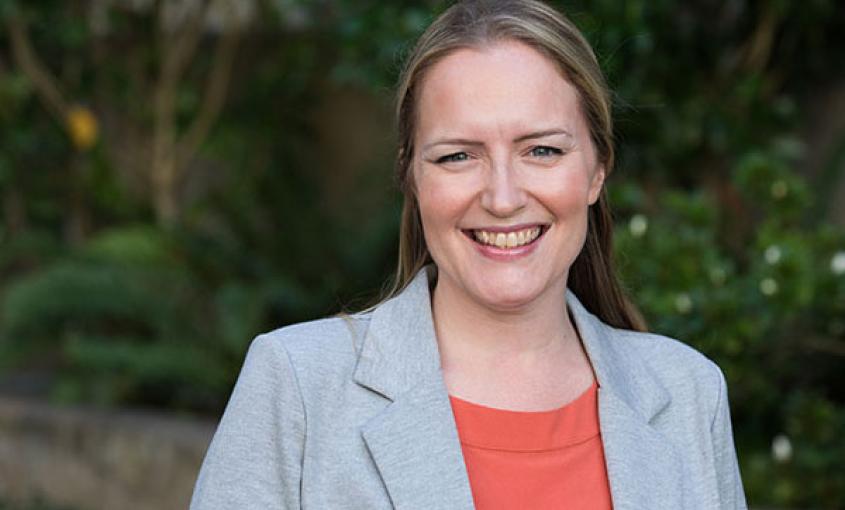 As a nurse practitioner, Chelsea Landolin sees the impact of climate change on the patients and communities she serves.
"People are losing their homes and their livelihoods to climate change," said Landolin, MS, PMHNP, an assistant professor at the UCSF School of Nursing. "We see this with wildfires, hurricanes and droughts. Patients suffer asthma attacks from wildfire smoke, now an inescapable part of life in California."
Around the country, hurricane flooding and heat stroke from record temperatures are rising causes of death, Landolin said. Climate change is contributing to depression and anxiety; people are fearful of the future, and for themselves, their children and future generations.
"We see very reliably that the costs of climate change are paid first by those who are the least responsible for it, and those who are already the most disadvantaged," she said. "I don't know how we can think about health equity without thinking about sustainability."
As chair of the University of California, San Francisco's Academic Senate Committee on Sustainability — and the only nurse on the 10-member group — Landolin is leading efforts to advance recommendations and champion solutions that will dramatically cut carbon emissions at UCSF by 2030.
Enhanced Sustainability
UCSF has taken a number of measures to become more sustainable. From 2010 to 2020, the university cut greenhouse gas emissions by 24 percent, reduced energy use by 12 percent, and added 2.5 million square feet of LEED-certified projects. In May, the UC Center for Climate, Health and Equity launched at UCSF to harness the expertise and leadership of the health sector to drive climate action.
The work that Landolin is leading with colleagues on the Academic Senate Committee on Sustainability strives to expand on these efforts and empower the university to further adapt its practices to meet the climate change challenge.
"Climate change is going to be a defining issue for the next few hundred years," Landolin said. "It will never be just one thing that solves climate change; it will have to be many things."
Read the full story in our Science of Caring online publication.