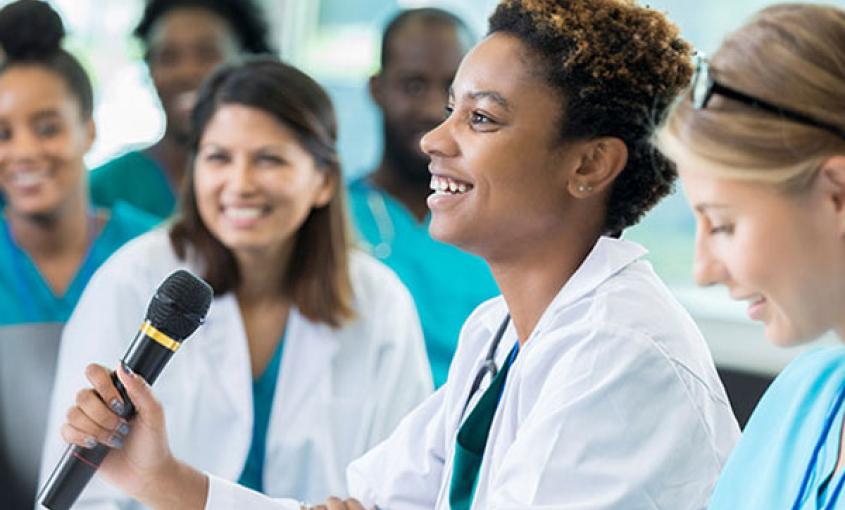 By Milenko Martinovich and Katherine Tam / July 2021
The UCSF School of Nursing is working to empower California nurses to better translate their work for the general public and leverage their voices to advance health care.
The School partnered with the American Nurses Association\California to launch a new educational series to arm nurses with the skills to work effectively with the news media, engage in media interviews with confidence, and write compelling op-eds and commentaries.
Although nursing has been consistently recognized as the most trusted profession, a 1998 Woodhull study found that nursing voices were cited 4 percent of the time in health news stories. When the study was replicated in 2018, it showed no improvement in 20 years. 
Yet nurses have the training and expertise to inform and shape public discussions around health care, health policy and health equity.
To increase the visibility of nurses' voices, a team of UCSF School of Nursing faculty — Ifeyinwa Asiodu, Orlando Harris, Monica McLemore and Jerry John Nutor — partnered with ANA\California's President Anita Girard and Executive Director Marketa Houskova to lead a two-day virtual workshop series this past May. Barbara Glickstein, a public health nurse, health reporter and media strategist, facilitated the training. UCSF nursing faculty as well as ANA\California members made up the first cohort of 19 participants.
"The COVID-19 pandemic has taught us how valuable the voices of nurses are in shaping the public perception of the impact of COVID-19 on vulnerable communities," said Harris, assistant professor at the School of Nursing. "Nurses who are trained in how to communicate with the media can share patient care perspectives that are unique to our profession. This training was one of the necessary first steps in learning how to center our voices and expertise when communicating with the media."
During the workshops, the nurses learned how to convey their health care research and clinical work into a message that would resonate with the general public. They heard directly from two veteran journalists about how to effectively pitch a health or science story to reporters, and learned how to craft effective op-eds, blogs and commentaries. The workshop series included exercises in which participants practiced presenting their key message to a lay audience, and engaged in mock media interviews. 
Read the full story in the UCSF School of Nursing's Science of Caring online publication.