The E*Value Implementation Project team members celebrated the successful launch of Phase I of the School of Nursing's new clinical training tracking system. All first year students, staff, and clinical faculty use this system for clinical placement tracking and evaluation. The implementation launched October 1 and features clinical placement and scheduling, activity tracking (e.g., case logs, time logs, conference logs), evaluation, and survey functions.
As part of the November celebration, the Project Management Office (PMO) awarded project members with certificates and a button identifying them as part of the League of Project Action Heroes. PMO Senior Program Analyst Jennifer Lo designed the logo, which you can see below. She also provided a legend outlining the symbolic meaning of the components contained in the design: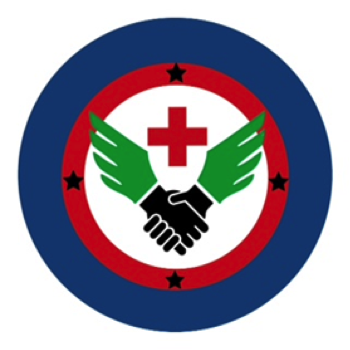 Blue – Courage, happiness, gratitude, compassion
Green – Renewal, harmony, balance, growth
Red – Energy, excitement, passion, love
White – Goodness, empowerment, purity, hospital
Hands – Collaboration, helping each other, partnership
Wings – Elevation, ambition, going to new heights
Rings – Staying on track, commitment, continuous improvement
Stars – 4 departments, at directional points like a compass
Cross – medical/nursing, care
The project team is led by faculty champion, Angel Chen, RN, MSN, PNP. Additional members include: Linda Kittle (PMO), Jennifer Lo (PMO), Goshen Chan, Judy Alonzo, Courtney Anderson, Annette Carley, Kim Dau, Rosalind De Lisser, Mattice Harris, Lynda Jacobsen, Jillian Lam, Tony Lau, Sandra Le, Perri Ling, Lynda Mackin, Jessica Nghiem, Lynne Palazzolo, Elizabeth Shabrell, Teresa Scherzer, Miranda Surjadi, and Peter Weber. The Phase I implementation was an unprecedented success thanks to the commitment and collaboration of the many faculty and staff who engaged in the project.