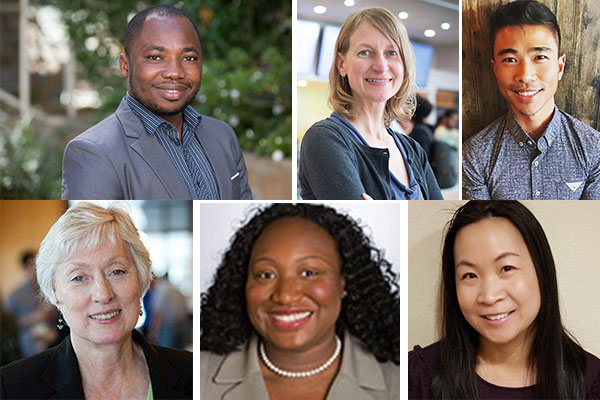 By Milenko Martinovich and Katherine Tam/March 2021
The COVID-19 public health crisis has dramatically altered every facet of daily life, from public health and the economy to social norms and cultural traditions.
Researchers at the UCSF School of Nursing are working to illuminate the pandemic's impacts, especially on diverse and vulnerable communities. Together, they aim to develop and implement practical solutions that improve health care, shape policy, and prepare government agencies and health care organizations to better manage future crises.
Meet some of the UCSF nursing faculty leading research in the COVID-19 arena:
Advancing Community Health Amid a Global Health Crisis
Orlando Harris, PhD, MPH, FNP, serves on the national COVID-19 Prevention Network's expert peer review panel, established by the National Institute of Allergy and Infectious Diseases. As an expert panelist, Harris reviews federally sponsored COVID-19 vaccine efficacy trial protocols, and reports on the impact, ethics and recommendations for African American/Black communities.
In addition to advising on these federal efforts, Harris is leading a research study to examine how COVID-19 and the shelter-in-place orders have affected Black and Latino sexual minority mens' ability to access care and COVID-19 related vaccine barriers. The pandemic has disrupted HIV treatment and prevention services for this community, and Harris aims to understand the full impact of this problem.
Kristen Harknett, PhD, is focusing her attention on the country's 25 million service workers who have been significantly impacted by the pandemic. Many in the retail and food service industries have lost their livelihoods due to layoffs or have had their work hours dramatically reduced. Others, such as grocery store or pharmacy workers are essential, frontline workers who  risk exposure to COVID-19 each time they report to work.
"These workers are continuing to show up to work — stocking shelves, and ringing up and delivering essential food and medicine — risking exposure to a highly contagious and serious illness and facing increased workloads due to co-workers calling out sick," Harknett said.
Harknett is studying survey data collected from almost 20,000 service workers nationwide during the pandemic to better understand the impact on these workers. Her findings are helping to inform policy discussions about workplace safety, hazard pay, and the need for universal paid sick leave.
Jerry John Nutor, PhD, MS, RN, is working to understand how prepared health care workers are to manage the COVID-19 public health challenge in Ghana, which has witnessed skyrocketing infection rates. This is the first study in Ghana to examine providers' concerns about preparedness during the pandemic, and is a partnership with researchers in Ghana and Kenya. The team's findings will guide the response to COVID-19 and advise policy development in Ghana.
Nutor, along with Associate Dean Julene Johnson, PhD, are also exploring the impact that music has had on informing Ghanaians about the dangers of COVID-19. They analyzed 28 songs that contained specific themes around building awareness of COVID-19 and its impact. The study demonstrated music's ability to successfully inform people during a public health crisis and promote positive behaviors. Johnson also mentored Chinaza Ochi, a second-year medical student, on a project that found most participants still engaged in the arts during the pandemic, although in a different capacity due to closure of community arts programs and faith-based organizations.
Van Park, PhD, MPH, and Linda Park, PhD, RN, FAAN, are examining the impact of COVID-19 on Asian Americans and Pacific Islanders' health, including their experience with COVID-19 related discrimination, COVID-19 vaccine willingness and concerns, ability to access health care, caregiving, employment, social support, coping strategies and access to digital technology. The results of their nationwide online survey will help inform future policies, programs and additional research that can alleviate COVID-19's effects on this community. The team is leveraging the largest multi-lingual registry of AAPI — the goal is to recruit 10,000 participants — through the CARE initiative, which was created to address the gap and reduce disparities in research participation among AAPI individuals.
Read the full story in our Science of Caring online publication.