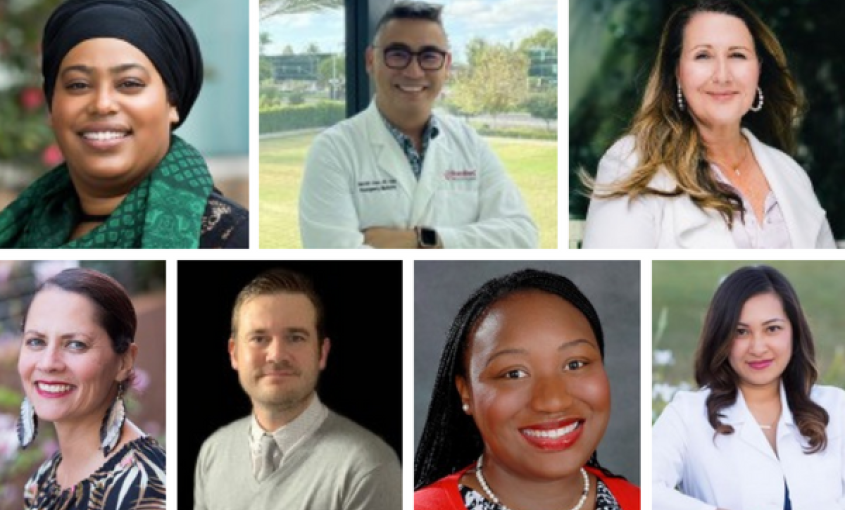 Across California, experts are working to expand health care access, especially for those most in need. Learn about how just some of our UCSF nursing alumni are driving innovative change today.
Reducing Infant Feeding Disparities
"Advancing health care in California means addressing reproductive health inequities and diversifying the health care workforce," said Ifeyinwa Asiodu, PhD '14, MS '12, FAAN. "For me, this begins with increasing access to human milk and the number of Black and Brown lactation support providers serving purposively marginalized and systematically excluded communities. In order to advance health care in California, we need more equitable public health policies and practices that are rooted in reproductive justice and truly center families and communities."
Asiodu is a national leader in addressing maternal and infant health disparities. Through her work and research, Asiodu fights to reduce infant feeding inequalities and increase access to human milk. Her research demonstrates the need for culturally informed breastfeeding care, lactation support and equitable contraception services for under-resourced communities.
In May 2022, Asiodu was a panelist on the White House's California Clinician Leaders Listening Session. The panel's only public health nurse, Asiodu emphasized access to human milk as key to advancing health equity in California. Her comments, made as California reeled amidst a historic infant formula shortage, highlighted the need for the state to make financial investments in breastfeeding support particularly for structurally vulnerable communities.
Leading the COVID-19 Crisis Response
As the chief population health officer, Gina Intinarelli-Shuler, PhD '13, enabled UCSF Health to effectively respond to the COVID-19 crisis for patients, employees and the community.
At the start of the pandemic, Intinarelli-Shuler and her team of nurses, navigators and social workers swiftly established and operated a hotline to assess patient symptoms. Their work to get patients to the right level of care quickly drastically mitigated the demand on the emergency room.
"Nurses bring a unique and very well-informed perspective to all aspects of health care because nurses work in all aspects of health care," said Intinarelli-Shuler. "Advancing health care in California means ensuring nurses are a part of strategic planning and decision-making structures; whether that is at the local health system, county or state level."
As the pandemic advanced and health care workers became ill with the coronavirus, Intinarelli-Shuler got to work once again. In collaboration with UCSF Health colleagues, she helped design a new model to assess health care workers' symptoms, protecting frontline workers and ensuring the safe continuation of care.
When the COVID-19 vaccine became available, Intinarelli-Shuler co-led the rapid rollout of mass vaccination sites. She collaborated with leaders from across UCSF Health to not only navigate the complex logistics of the rollout but ensured that a commitment to equitable vaccine distribution was incorporated into vaccine care delivery. Intinarelli-Shuler and her team continue to manage UCSF's hotline response to COVID-19 today.
Read the full story in our Science of Caring online publication.