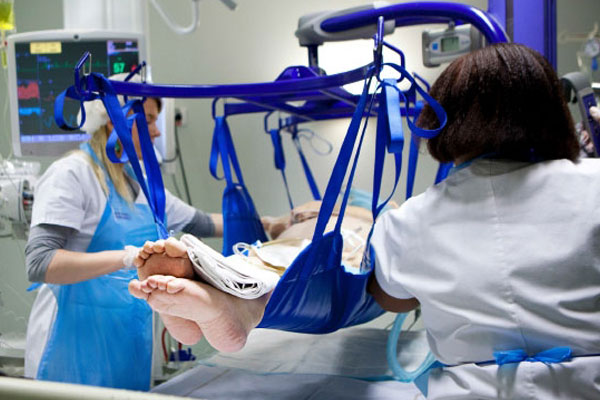 Hospitals are among the country's most hazardous workplaces, with an estimated 224,700 work-related illnesses and injuries recorded in 2017, according to the United States Bureau of Labor Statistics. That incidence rate surpasses the construction industry. The physical demands on nurses certainly contribute to these numbers, says Soo-Jeong Lee, associate professor at the UC San Francisco School of Nursing.
"Nursing is a unique combination of high-tech and physically demanding tasks," says Lee, who is now completing a series of studies that assess the impact of legislation in California aimed at reducing injury rates among hospital workers in the state.
A New Law Presents Important Research Opportunities
The Hospital Patient and Health Care Worker Injury Protection Act, which former California Gov. Jerry Brown signed in 2011, requires acute care hospitals to develop and implement safe patient handling policies, including training of workers and making mechanical lifting devices available for workers assisting patients. It also prohibits disciplinary action against workers who refuse to undertake patient lifting or repositioning tasks they consider unsafe.
Lee wanted to understand whether the legislation worked as intended, and sought nurses' on-the-ground observations of the new law's impact. She began a series of studies by convening several focus groups of nurses at acute care hospitals in the Bay Area, asking them about their experiences and perceptions of how the legislation was affecting their work. With funding from the National Institute for Occupational Safety and Health (NIOSH) and the School, Lee ultimately expanded that work by conducting a survey of 280 California nurses, which looked at how organizations were approaching safe patient handling in the wake of the legislation, and how those policies and processes were affecting injury rates among nurses.
Read the full story by Diana Austin in our Science of Caring publication.