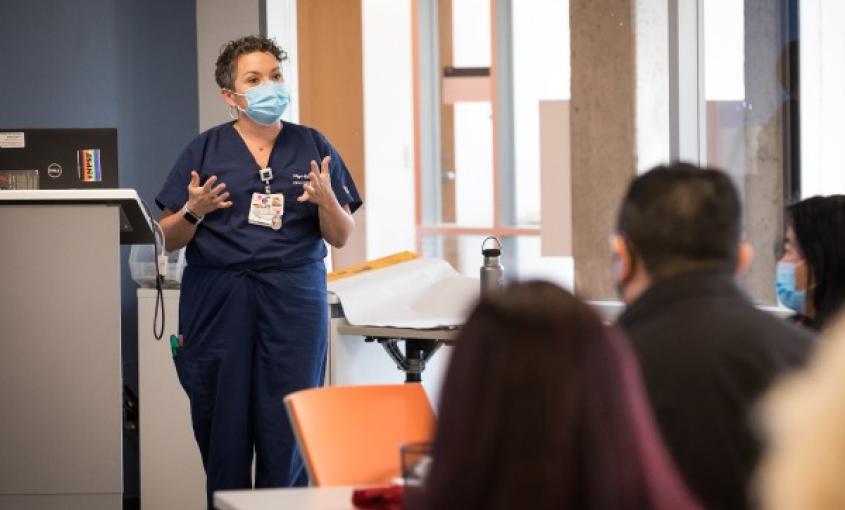 Nurses comprise more than half of the world's health care workforce. However, nurses are underrepresented in senior health care leadership positions, despite improved regulatory and working conditions for nurses when they hold these roles.
The UCSF Leadership Institute is poised to tackle this issue for California. Through robust leadership development programs, the institute invests in nurses across the career trajectory to elevate the state's health care workforce.
Investing in Nurse Leaders in California
A partnership between the UCSF School of Nursing and UCSF Health Center for Nursing Excellence and Innovation, the institute launched programs in fall 2021 as California health care workers continued their relentless fight against the coronavirus.
"Our goal is to help advance the leadership capacity and the expertise of nurse leaders at all levels within health care," said Justin Pohl, MEd, the Leadership Institute's director. "From the excellent bedside nurse or attending physician or frontline employee all the way to the C-suite executive, we have a program tailored specifically to advance and help them grow."
By training nurses for leadership roles, the institute is changing health care in California for the better.
"In response to the exodus of nurses in California, we're offering robust programming to retain our best leaders, create pipelines for leadership roles so that we don't rely on interim leaders, and empower folks to do their best work because they are prepared," said Pohl.
The institute offers leadership training, evidence-based practice training, an innovative Population Health Management Certificate Program and specialty programs designed collaboratively with partners including Kaiser Permanente.
Cohorts enroll a maximum of 25 participants to foster peer-to-peer learning and connection. Their dynamic learning environments integrate coaching and mentorship, and virtual and in-person engagement.
"The Leadership Institute is cultivating higher-level leaders. The curriculum not only provides participants with tools to be successful, but offers small group discussions, strategy sessions and coaching to facilitate growth," said KT Waxman, DNP, MBA, FAAN, co-director of the Leadership Institute and director of the school's Doctor of Nursing Practice program. "Each organization that the learners are from benefits from the outcomes of the programs."
Outcome-Driven Leadership Training Programs
The institute's five leadership training programs are tailored to participants' leadership experience and career goals.
"Foundations for Excellence in Healthcare Leadership affirmed my desire to be a transformational leader and taught me to capitalize on my unique strengths," said James Darby Jr., program alum and UCSF Health unit director. "The program provided me with additional tools and an advantage over my peers in similar roles throughout the country."
Read the full story in our Science of Caring online publication.