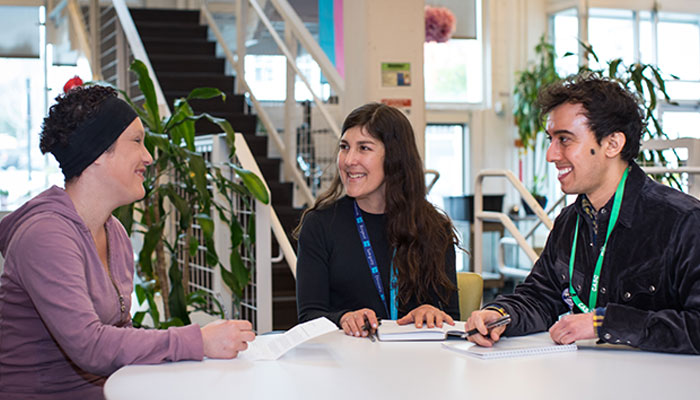 By Milenko Martinovich
More than half of Californians suffering from mental health issues are not receiving the psychiatric care they need. Within the next decade, the state is expected to see the number of psychiatrists decline by 34 percent.  
A bold initiative to solve this growing crisis began this month as the UCSF School of Nursing, in partnership with the UC Davis and UCLA Schools of Nursing, launched a remote-learning Post-Master's Certificate Program that will train 300 new psychiatric mental health nurse practitioners (PMNHPs) within the next five years. The initiative, supported by a $1.4 million grant from the California Health Care Foundation, is an expansion of the existing Post-Master's Certificate Program at UCSF that is projected to nearly double the state's current pipeline of PMHNPs.
"We're seeing a downtrend in the number of psychiatrists and that's contributing to incredible workforce needs," said Co-Director Rosalind de Lisser, associate professor at the UCSF School of Nursing. "This certificate will help us build a new pipeline for California's mental health workforce."
"Many Californians in need of behavioral health support seek care where these NPs are already in practice. Preparing the NPs to address the mental health needs of their patients improves care and avoids further burdening an understaffed mental health system," added UCSF School of Nursing Dean Catherine Gilliss, whose clinical credentials included preparation as a specialist in psychiatric mental health nursing and as a primary care NP. "Not only are we preparing additional providers but we are working to distribute them more widely within the state."
The first of its kind in California, the UC Multi-Campus Psychiatric Mental Health Nurse Practitioner Post-Master's Certificate will greatly expand the state's current PMHNP workforce of about 1,200.
The one-year program combines remote-learning education with in-person clinical training. The flexibility of the program allows students to remain working in their communities, including rural areas where access to mental health care is even more difficult. Many applicants have been recruited from these underserved areas, with the goal that they will be able to apply their newfound skills and expertise in their communities.
"The curriculum was designed to develop health care citizens, responsive to structural barriers to mental health care while also supporting clinician well-being," de Lisser said. 
Family nurse practitioner Kara Zertuche, who began the program this month, lives in Humboldt County where she worked at a federally funded rural health clinic for seven years, serving patients with MediCal or no insurance.
"The vast majority had substance use or mental health issues or both," she said. "So often I wanted to help them, but those issues were out of my scope. That experience really motivated me to want to specialize in the psychiatric aspect of a nurse practitioner."
Upon certification in one year, Zertuche plans to apply her new skills in a primary care setting where she strongly believes mental health care should be integrated. A more holistic approach — caring for mind and body — could help stem this mental health crisis, she said.
Read the full story in our Science of Caring online publication.
(Posted: Jan. 19, 2021)