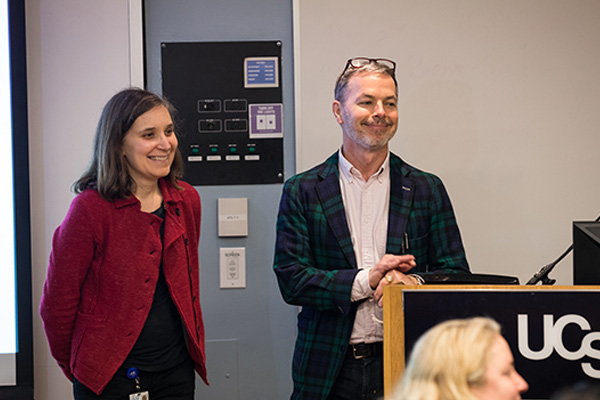 By Milenko Martinovich
With nearly 19 million U.S. adults – about one in 12 – struggling with substance use disorder, researchers at the UCSF School of Nursing are exploring innovative remedies – pharmacological, cognitive, and even exercise-based interventions paired with an employment incentive – to stem the nation's substance use epidemic. 
Curbing Methamphetamine Use 
While substance use affects all age groups and across socio-economic levels and backgrounds, the LGBTQ community has a higher prevalence of use relative to the general population. According to a 2015 National Survey on Drug Use and Health, lesbian, gay or bisexual adults were more likely than heterosexual adults to have disorders involving illicit substances (39.1 percent to 17.1 percent), marijuana (30.7 percent to 12.9 percent), and prescription pain relievers (10.4 percent to 4.5 percent). 
"There's research that shows LGBT populations don't feel as comfortable in substance use treatment programs and have reported it's not an inviting and welcoming space," said Glenn-Milo Santos, associate professor in the School of Nursing. 
There's also a need to examine effective pharmacologic treatments for substance use disorders. To address these gaps, Santos' current research combines pharmacological and counseling approaches to treat substance use, including cocaine, alcohol and methamphetamine. 
Santos recently co-first authored a study examining the effects of mirtazapine, an antidepressant, with counseling on methamphetamine users who are cisgender men (individuals identified as male at birth), transgender men (individuals identified as female at birth, but now identify as male), and transgender women (individuals identified as male at birth, but now identify as female). There have been no pharmacologic agents approved for methamphetamine use disorders, but a 12-week trial with mirtazapine that Santos conducted prior to this study, had encouraging results.
Those encouraging results were seen again in a recently completed larger trial. The rate of methamphetamine-positive urine tests "significantly declined among participants randomized to mirtazapine vs. placebo." The decline was evident after 24 weeks of treatment, and sustained through 12 weeks of follow-up treatment after participants stopped taking mirtazapine. 
Serotonin and dopamine levels increase due to acute use of methamphetamine. When individuals stop using the substance, those levels decrease, triggering methamphetamine craving and impulsive drug-seeking. 
"When a chronic user of methamphetamine cuts down their use, they might experience withdrawal symptoms," Santos said. "Because their levels of dopamine and serotonin are dysregulated, they might feel tired or lack the ability to feel pleasure, and they may crave or seek out more methamphetamine in order to reduce these symptoms."
Mirtazapine restores serotonin and dopamine levels in specific parts of the brain linked to the cycle of substance use disorders, Santos explained. As those levels are restored, Santos postulates that methamphetamine cravings and withdrawal symptoms will be eased. 
Mirtazapine may have an added benefit for populations with high burdens of HIV and STI transmission – men who have sex with men. Santos said research has linked methamphetamine use to sexual behaviors, including condomless sex with a greater number of sexual partners. If methamphetamine use is reduced in this population, that could also result in the decline of condomless sexual behaviors, which could lead to fewer HIV transmissions. Santos' two mirtazapine studies have indicated parallel reductions in condomless sex associated with reductions in methamphetamine use, supporting this hypothesis. 
Santos hopes these findings accelerate the FDA's approval of mirtazapine for methamphetamine treatment, help scale up efforts to treat methamphetamine, as well as expand options to reduce HIV transmission associated with methamphetamine among sexual and gender minorities. 
Combining Exercise With Potential Employment 
Because exercise is good for your health, it stands to reason that it can be beneficial for individuals with substance use disorders. 
A recent study by School of Nursing associate professor Heather Leutwyler, senior clinical research coordinator Erin Hubbard, and Maria Stevens, Director of the Live Fitness Program for the Salvation Army's Harbor Light Center, took that premise even further. What if, in addition to substance abuse counseling and an exercise program, individuals also underwent vocational training?
Read the full story in our Science of Caring publication.