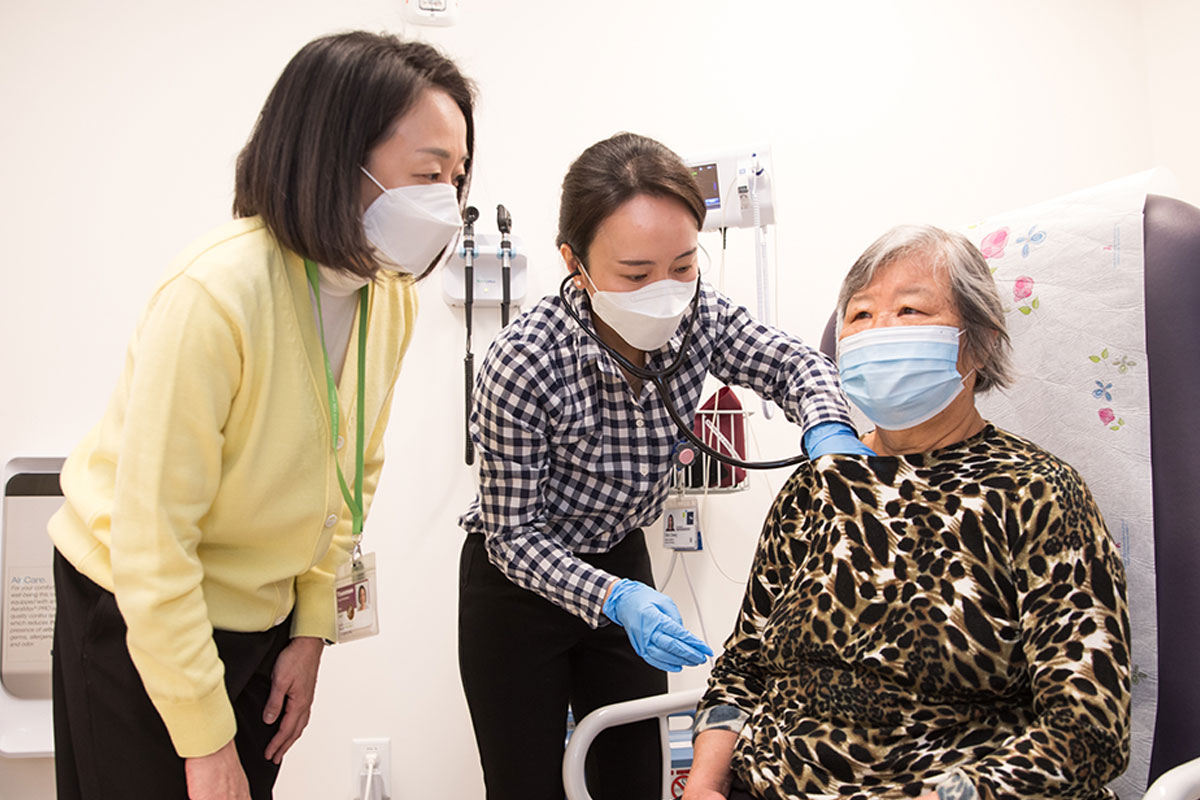 Yoonmee Joo (left), assistant clinical professor in the Adult Gerontology Primary Care Nurse Practitioner specialty, precepts master's student Ellen Park Chang as she provides care to patient Lini Xu at the Center for Elders Independence in Oakland, California. (Photo credit: Elisabeth Fall)
Baby boomers will again cause a shift in America's demographics when the year 2030 arrives.
That generation will be age 65 or older by then, and the number of older people is projected to increase 55%. One in five people will be hitting an age when health problems may begin emerging.
America isn't fully prepared to meet the challenge.
About 7,000 certified geriatricians are practicing today, but the American Geriatrics Society estimates needing as many as 30,000 by 2030 to meet the upcoming health care demands.
Geriatric care encompasses health conditions that are complex and unique to older adults, ranging from chronic diseases to cognitive issues, and different approaches are needed to manage their health.
The UCSF School of Nursing is working to boost the workforce of trained health care professionals by preparing advanced practice nurses to diagnose, treat and advocate for the complex health needs of older adults. Through its Master of Science program, the School provides specialized training in adult gerontology with a rigorous two-year curriculum that combines extensive didactic courses and clinical residencies.
Adult Gerontology Primary Care Nurse Practitioner Specialty
The Adult Gerontology Primary Care Nurse Practitioner (AGPCNP) specialty prepares nurse practitioners to deliver comprehensive care for diverse, high-risk populations in community and hospital-based primary care clinics, skilled nursing facilities, and patients' homes.
Students in this specialty learn to diagnose, treat and manage the long-term health care of adults and older adults who have multiple comorbidities, a common experience for this population, said Helen Horvath, an associate clinical professor in AGPCNP. As part of the curriculum, the students learn the importance of individualized decision-making in preventive care for older adults, receive in-depth training in palliative care, and master the skills to be able to promote good health practices and maintenance. In addition, many students take additional coursework in geriatric psychiatric care.
In conjunction with the didactic coursework and clinical rotations, second-year students can also participate in the NP Geri Scholars (NPGS) program where they train alongside physicians in UCSF's geriatric medicine fellowship, psychiatry fellows and others in an interprofessional setting at the San Francisco VA Medical Center. The year-long series includes lectures and interactive discussions on topics, such as geriatric eye diseases, hearing loss and nursing home care, from renowned clinicians and researchers in the field.
"All of our AGPCNP students learn about these important topics, but our NP Geri Scholars take a deeper dive into these issues and build a deeper understanding that helps them provide quality patient care," said Horvath, who oversees the NPGS program.
Adult-Gerontology Clinical Nurse Specialist Specialty
The School also trains clinical nurse specialists to become experts in geriatric care through its Adult Gerontology Clinical Nurse Specialist (AGCNS) specialty.
The specialty prepares graduate nursing students to manage the health of vulnerable adult and older adult populations from wellness through acute care. They emerge as valuable resources and consultants to fellow health care professionals, and take on roles which may include managing large programs and incorporating evidence into practice. Subspecialty options are offered in oncology, and in critical care and trauma.
Read the complete story in our Science of Caring online publication.