Preceptors and volunteer clinical faculty offer students individual perspectives and hands-on experience in a variety of health care settings and specialties. The cumulative effect of what these volunteers impart plays a significant role in the care any health system delivers.
Clinical preceptors are integral to the future of nursing.

They volunteer their time and energy, using education and training in an effort to assure that the profession grows and thrives.
They provide students with learning experiences that prepare them for the role of expert care provider.

Preceptors can advance their career by becoming a UCSF volunteer faculty, participating in CE opportunities such as Transgender and Gender-Nonconforming (TGNC) Care 101 for Nursing Preceptors available Aug. 15-Sept. 11, and collaborating on projects within the School of Nursing.
For more information, contact Clinical Placements Supervisor Tammy Ryan.
Why I Precept
What Makes a Great Preceptor?
Recognizing Our Preceptors
In honor of the critical contributions that preceptors make to advance student learning, the UCSF School of Nursing faculty are honoring one preceptor each month. The award recognizes an exceptional preceptor who consistently and effectively contributes to UCSF nursing students' clinical education.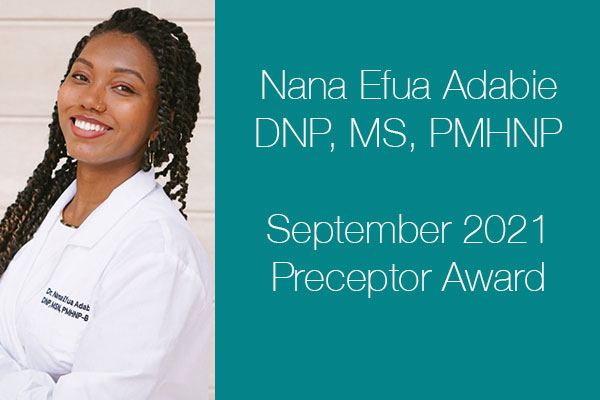 Nana Efua Adabie, DNP, MSN, PMHNP-BC, is a UCSF-trained PMHNP and DNP who is a preceptor in the PMHNP specialty. She has worked with underserved populations and the LGBTQ+ community as a PMHNP in the San Francisco Bay Area since 2018. Adabie has clinical experience in both inpatient and outpatient settings, diagnosing and treating and managing adults with psychiatric illnesses. She advocates for whole person-centered care and promotes a healthy lifestyle, in addition to psychopharmacotherapy. Adabie has a passion for working in mental health and is on a mission to de-stigmatize mental illness and advocate for more diversity in mental health care. Born and raised in Ghana, Adabie moved to the United States in 2006. She hopes to continue to translate evidence-based practices into clinical settings and improve health care outcomes.
Her clinical interests include treatment of mood and anxiety disorders, psychotic disorders, ADHD, perinatal and postpartum mental health, leadership, health policy, and teaching and precepting students.
Cristely Urena, a former preceptee, said: "Dr. Nana is a wonderful preceptor. I am so grateful to have been paired with her. She has a wealth of knowledge and she wasn't shy about pushing me to do my best. I enjoyed every moment of my experience alongside her. She is everything I could've asked for in a preceptor."
Read about other recipients of the School of Nursing Preceptor Awards.