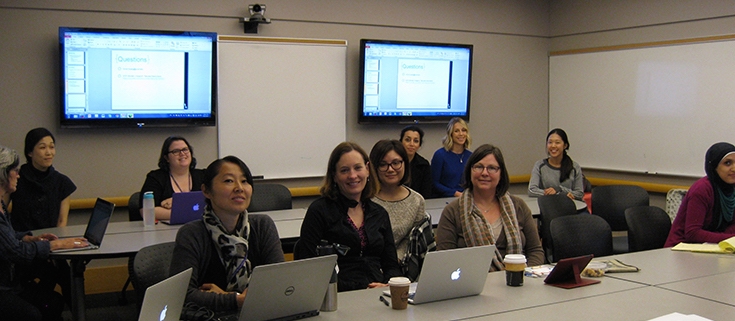 These resources are designed to help faculty, staff and Teaching Assistants in the School of Nursing utilize the services (expertise, training, assistance, documentation, etc.) of the HUB and the educational technology tools available at UCSF. For account access on these particular services listed below, or for any questions, scheduling appointments, etc. please contact the School of Nursing HUB office as your first stop via [email protected].
Labs and Training
Tools
Collaborative Learning Environment (CLE) is a course management system powered by Moodle.
Approx. 65-75% all of SON courses have a CLE site. CLE course sites can include a wide variety of materials and activities to aid faculty and students in the teaching and learning process.
To access the CLE, please go to cle.ucsf.edu.
CLE Tips & Instructions
 
TurnItIn is a web-based plagiarism detection and prevention system which can find and highlight matching or unoriginal text in a written assignment.
Faculty can send their students' assignments to the Turnitin database or else set up to allow students to send their own assignments to the service for review. Faculty can also set up peer review assignment through Turnitin.
To set up turnitin account, please go to this page first.
http://turnitin.com/
 
Poll Everywhere replaces audience response hardware with standard web technology. It is an online service for live audience response using mobile devices like phones. Participate by visiting a fast mobile-friendly web page for your event, sending text messages, or using Twitter.
Poll Everywhere has been used in the face to face classrooms for SON courses to get immediate and real time audience responses to questions, surveys, and class discussions.
You can get free accounts for polling up to 40 students for higher education accounts (second link below) or use the School of Medicine's UCSF account (first link below).
http://meded.ucsf.edu/tel/poll-everywhere
Qualtrics is a web-based survey software that is licensed to all of UCSF.
Surveys, surveys, surveys! Easy to create and use, Qualtrics surveys can be a great way to assess and gather evaluative data from your students, fellow faculty, departments, etc.
http://it.ucsf.edu/services/qualtrics-web-surveys

 

[email protected]

is powered by Kaltura and administered by the UCSF Library, is a web-based portal for education-focused video. UCSF faculty, students, and staff can view videos, create playlists, and upload content.
https://media.ucsf.edu/home
 
 Zoom is a cloud-based platform that works with Windows, Mac, iOS, Android, Blackberry, and Linux, allowing users to connect via video, audio, and/or screen sharing remotely from any location. Faculty can use Zoom to present synchronous (live) or asynchronous (pre-recorded) lectures, or use it for virtual office hours, online tutoring, and advising of students. Additionally, faculty, students and staff can utilize Zoom to facilitate meetings with peers, colleagues, and other campuses locally, nationally, or internationally.
All individuals with an active UCSF directory email address can access this service free of charge. Please access Zoom and get basic guide herehttps://ucsf.zoom.us/.