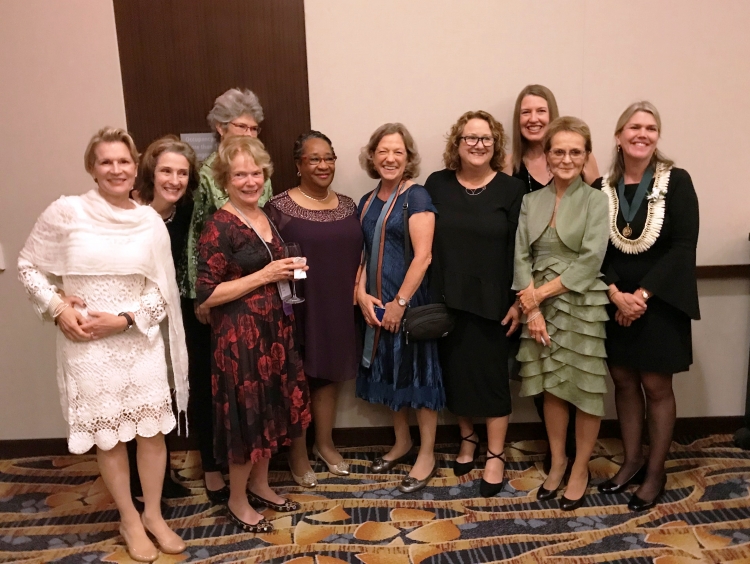 Center for Global Health
Kim Baltzell, RN, MS, PhD, FAAN
Director, Center for Global Health
[email protected]
Sally Rankin, RN, PhD, FNP, FAAN
Advisor, Center for Global Health
[email protected]
Sharon Rose, MPH
Program Manager, Center for Global Health
[email protected]
Emily Hall, RN, MSN, MPH
Faculty & Coordinator, Global Health Minor
[email protected]
2017-2018 Global Health Nursing Faculty Committee
Stella Aguinaga Bialous, RN, DrPH​
Committee Chair
Social and Behavioral Sciences
[email protected]
Kim Baltzell, RN, MS, PhD, FAAN
Family Health Care Nursing
[email protected]
Karen Duderstadt, RN, PhD, FAAN
Family Health Care Nursing
[email protected]
Emily Hall, RN, MSN, MPH
Family Health Care Nursing
[email protected]
Mary McQuilkin, MPH, MsN, BSN
Community Health Systems
[email protected]
Margaret Wallhagen, RN, PhD, FAAN
Physiological Nursing
[email protected]
Center for Global Health Advisory Board
Madhavi Dandu, MD, MPH
Dr. Dandu is an Associate Professor of Medicine. She received her undergraduate degree in Comparative Literature and medical degree from the University of Michigan in Ann Arbor. She completed her residency training in the Categorical Medicine Program at UCSF in 2003. Afterwards, Dr. Dandu attended the University of California, Berkeley and received a Master in Public Health with a focus on international health and health and human rights. At UCSF, Dr. Dandu spends time on the inpatient clinical services supervising and teaching medical students and residents. She is Director of the MS in Global Health, a one-year program designed for students or practitioners in a health science profession or related field who wish to achieve mastery and leadership skills in the field of global health. Additionally, she directs the Global Health Pathway/Area of Distinction for the Internal Medicine Residency. Finally, Dr. Dandu co-directs the Global Health Hospital Medicine Core in the Division of Hospital Medicine at UCSF, whose mission is to improve the health of vulnerable populations throughout the world by adapting the unique skill sets of academic hospitalists to resource poor settings to reduce the burden of disease and realize global health equity.
 
Catherine L. Gilliss, PhD, RN, FAA
Catherine L. Gilliss is the Helene Fuld Health Trust Professor of Nursing at Duke University, where she served as dean from 2004-2014. Prior to her appointment at Duke she served as Dean at the Yale University School of Nursing (1998-2004) and Chair of UCSF's Department of Family Health Care Nursing (1993-1998). She serves on the boards of CHIMERIX and Triangle Residential Options for Substance Abusers (TROSA) in Durham, N.C. A past-president of the American Academy of Nursing, she is a member of the National Advisory Council of the Academy's Institute for Nursing Leadership. During the 2014-2015 academic year, she was a fellow at Stanford's Distinguished Careers Institute.
 
Nonie Hawkes Greene
Nonie Hawkes Greene is the Senior Vice-President of Marketing and Co-Owner of Greene Companies, a family-owned real estate and property management firm specializing in Office/Commercial and Industrial Properties. Previously, she was chief financial officer and co- owner of Rincon Hill Spectrum, a Space for Art and Events. She is Board Member of NARAL Pro- Choice America, NARAL Pro-Choice CA Privacy PAC Board and President of the SF Power of Choice Leadership Council, and Board member of the RockRose Institute since 2006, a Global organization that teaches and practices conflict resolution through better communication. She fundraises for the San Francisco Ballet, Marin Ballet , and 3 Girls Theater.
 
Amy Rankin-Williams, MA, DrPH
Amy Rankin-Williams is the Executive Director of Siempre Unidos, a non-governmental organization operating two HIV treatment clinics in Honduras. Their services include HIV education, testing, advocacy and outreach to members of the LGBTI community, Garifuna (Afro-Caribbean), commercial sex workers, prisoners and people living on less than $2/day. She is an Associate Adjunct Professor & Global Health Internship Coordinator at Dominican University of California, San Rafael. Previously, she was the Director of Development & Administration at the Global AIDS Interfaith Alliance, a NGO delivering HIV-related and primary care services in Malawi, Africa. She received her Bachelor's, Master's and Doctorate from Reed College, Harvard University and the University of North Carolina, Chapel Hill, respectively.
 
Susan Reinhart, MBA
Susan Reinhart received her BA in Human Biology from Stanford University in 1978. She then received her MBA in Finance from University of California, Berkeley in 1984. She worked as an investment banker at Goldman Sachs and Montgomery Securities in the Health Care area for three years before becoming an investment advisor. She has served on many non-profit boards including The Bay Area I Have a Dream Foundation where she was both a co-founder and board member. She also has served on the Board of the Bay Area Discovery Museum and on the Board of the Auxiliary of the March of Dimes.
 
Ellen Schell, RN, PhD, FAAN
As International Programs Director for Global AIDS Interfaith Alliance (GAIA), Ellen Schell, RN, PhD, FAAN, is responsible for overseeing GAIA's programs in Malawi including a community health education and treatment program which has trained over 600 community health workers serving 180 villages, seven mobile clinics providing basic health services and HIV testing to remote rural communities, and a nursing scholarship program that has sponsored 450 Malawian students (with 200 of these having completed their education and now practicing in Malawi clinics and hospitals). Her research experience includes service as Project Director on two NIH funded projects and as Co-PI (Sally Rankin, RN, PhD, FAAN—PI) on an NIH project investigating the response of Malawi religious organizations to the HIV epidemic. She is an Associate Adjunct Professor at UCSF School of Nursing.
 
Amanda M. Wallis
Amanda Wallis is the Managing Director and Bay Area Senior Executive for the Northern California and Nevada Region of U.S. Trust, Bank of America Private Wealth Management. In this role, she is responsible for representing several teams of Wealth Management professionals and delivering U.S. Trust's full resources to the company's extensive portfolio of clients. Wallis has previously held executive-level positions with American Express Company, Bank of America, and Crocker National Bank. She is a graduate of Smith College. A London native, Amanda spent ten years there between 1998 and 2008 and was named one of the 20 Most Influential Women in European Wealth Management by Global Investor Magazine. Wallis was also named one of the 100 most influential businesswomen in the Bay Area by the San Francisco Business Times in 2010, 2011 and 2012 and inducted into their Forever Influential Honor Roll June, 2014. Wallis is on the Board of the UCSF Foundation and the Avalon Academy located in Burlingame, California.
 
Jacob Zannou RN, MS
Jacob Zannou RN, MS, is a Benin and U.S trained registered nurse, who hold a bachelor degree in Healthcare Management from Bellevue University (Nebraska) and a Master's degree of Science in Global Health Sciences from the University of San Francisco California with a Capstone project on the health work force in Benin. Junior consultant at UNICEF and the World Bank Benin from 2002 to 2006 Jacob has successfully conducted designed implemented, and evaluated several, TB/HIV, Malaria and gender approach programs in Benin. As Africa Regional Program Coordinator for East Meets West Jacob was a key instrument in proving the very first bubble C-Pap machine for the neonatology and pediatric department of Benin's only tertiary hospital Huber Koutoukou Maga. USAID Benin has in 2014 through the Thrive Network awarded funding to expend the program to other hospitals in Benin and neighbor countries. Jacob worked with Treatment Action Group (TAG) and Open Society Organization as community expert in Africa on TB and HIV issues. Jacob has 18 years of experience in global health and the health care service delivery field. Jacob's vision, conviction and his personal experience help him raise enough money and equipment to start his own healthcare business to solving Benin and Africa's health care problems. He created a social business Z-VALLEY -Polyclinic St. Anne Cotonou (http://www.z-valley.net/) in his home country Benin with a UNIQUE strategy to solving the neonatal and maternal health care tragedy ongoing now for decades in Sub Sahara Africa.